Anthochori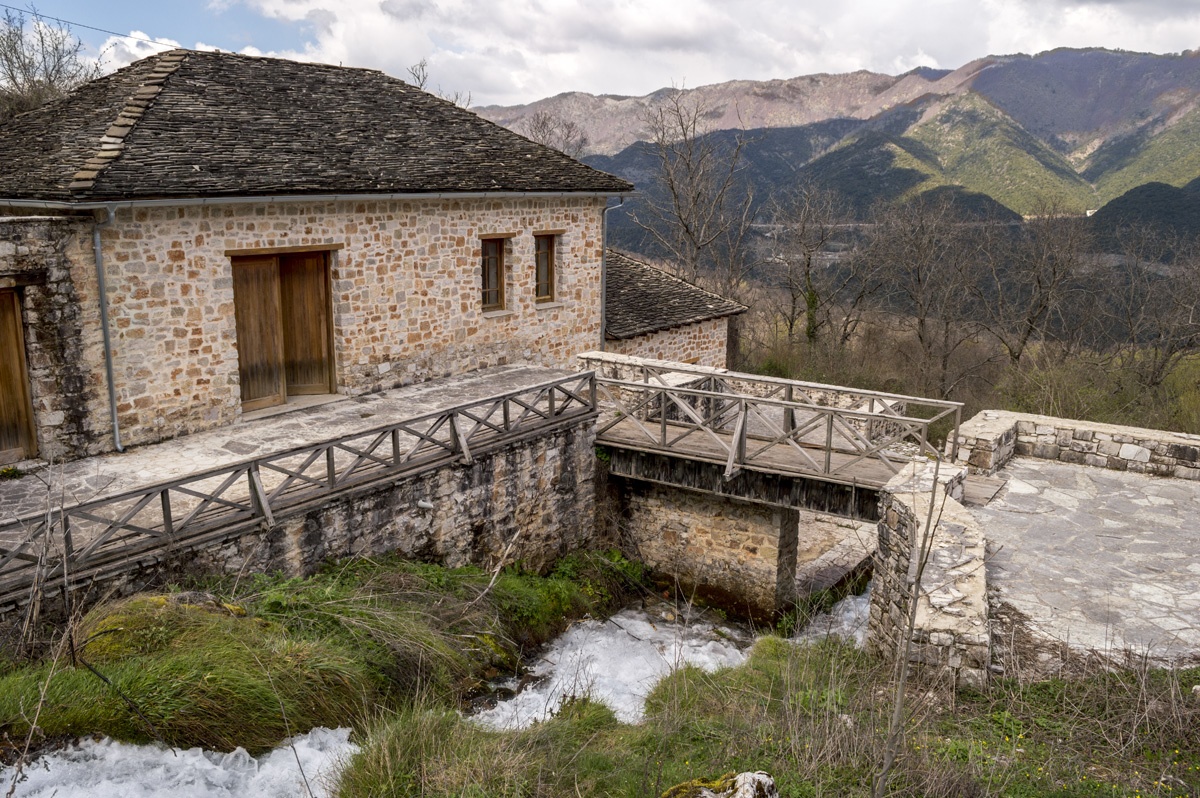 Anthochori is mountain village (1030 m) with 350 inhabitants in the prefecture of Ioannina and belongs to the Municipality of Metsovo. The previous settlement was called Derverndista, meaning a passageway, due to the key position of the settlement in the regional road network between Metsovo and neighboring Aspropotamos on the Thessalian part of Pindos.
Within the area of the settlement there have been archaeological findings and relics of the the Late Bronze period (2500-1100 BC). Prehistoric graves with offerings and a spearhead were found at the location "Pyrgos". On the hill between the temples of the holy Apostles and Saint Haralambos there are ruins of an outpost attributed to King Pyrrhus II of Epirus. In modern times the Derverndista appears in Ottoman documents as a setlement Metsovo.
A noteworthy monument is the post-Byzantine Monastery of Zoodochos Pigi (also known as Kokkini Petra – meaning Red Stone), built in the 17th century. It is located in the foothills of Mount Peristeri, 10km from Metsovo and 5 km from Anthohori. It owes its name to the red cliffs found east of the monastery. Another stylish monument is the church of St. Theodore built in 1884. Don't miss the fulling mills of Anthohori which have been recently renovated and form the "Water Power Park". The stone bridges of the area such as the single arched "Bridge of Viglas" or "Bridge of Balkanis" from 1707, the destroyed "Bridge of Gouras", the well-preserved "Bridge of Baba" and "Bridge of Milos" disclose the existence of a well organized communication network between the settlements of the Metsovo region in yester years.
After 4 hours of hiking from Anthohori to the peak of mount Peristeri, you can reach the location "Tsoukarela" (2295m), where from you can enjoy the view of the Ioannina basin and the surrounding mountains.
The inhabitants are involved in logging, farming and agriculture. The local cuisine is famous for it's pies zarkopita, kasiata, kolokythopita (pumpkin pie), kreatopita (meat pie), blatsopita, prasopita (leek pie), prozymopita (dough pie), trachanopita, tiropita (cheese pie).
The village of Anthohori celebrates on July 20, in honor of Prophet Ilias and food is distributed to the attendees. Events are held during the feast of Agia Paraskevi on July 26.
Map