Metsovo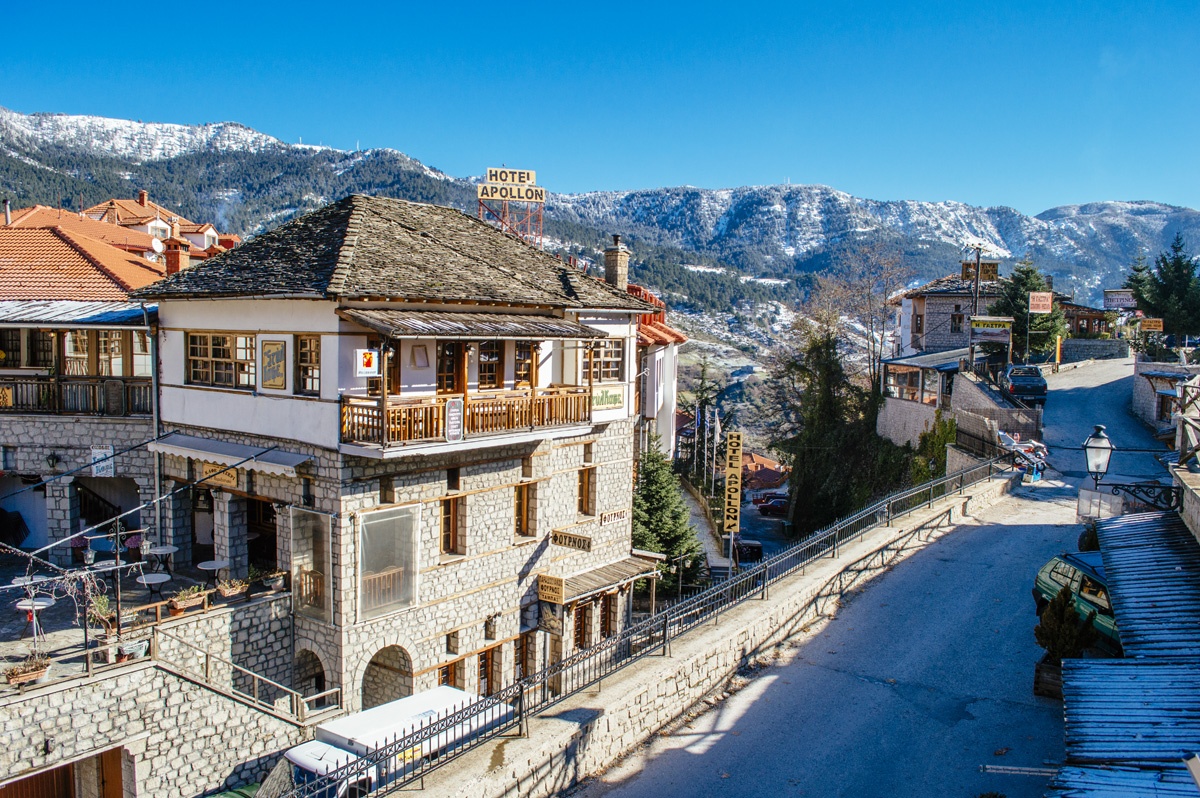 Metsovo is a mountain town (1160 m) of the prefecture of Ioannina, with 3195 inhabitants and is the seat of the municipality of Metsovo. The official name, Metsovo, as well as the name "Amintziou" - in the local Vlach dialect, have a common semantic and etymological origin from the Latin word, terminus technicus "mansio", describing the Roman road station and the administrative center of a network settlements in area. This is the timeless function of Metsovo, a key station on the Pindos mountain passes from Epirus to Thessaly and Macedonia and vice versa. The area of Metsovo is surrounded by high mountains.
Metsovo is a region inhabited continuously since antiquity. In addition, the names of Roman origin and the Latin-based local Vlach dialect confirm a Roman military presence in the region from 167 BC to 650 AD, and continuity throughout the Byzantine period. After 1659, Metsovo gained the prestigious status of the administrative center of the "Voivodship of Metsovo". Since then, Metsovo has emerged to be one of the most important mountain centers for livestock.
The processing of livestock products such as wool, skins and milk, and their marketing beyond the Ottoman Empire, made Metsovo an important crafts center. A strong team of traders networked in Europe and the Mediterranean area was formed in the late 17th century. The contribution of Metsovian traders to the development and strengthening of the intellectual movement of the Greek Enlightenment in the second half of the 18th century was decisive. Networks of Metsovians pioneered the Greek national idea for the creation and establishment of the Modern Greek nation state. Testament to this, are the families of the great national benefactors Averoff, Tositsas, Stournaras and their works.
Nevertheless, Metsovo owes its modern development to the bequest of Baron Michael Tositsas and the creativity of Evangelos Averoff. The Tositsas Foundation stimulated the modernization of traditional occupations (farming, cheese making, crafts) and ensured the improvement of the human resources of the area. Metsovo owes it current affluence and glamor to this effort.
The Folklore Museum housed at the Tositsas Mansion, the Averoff Art Gallery, the "Diaselo" Conference Center, the well preserved stone-built mansions and houses, stone built fountains, postbyzantine churches and monasteries give the feeling of a modern mountain town.
The inhabitants' main occupations involve livestock farming, cheese-making, winery, logging, wood carving, folk art, textiles, transport, beehive casing and barrel construction and, of course, tourism. In the central square, the visitor finds taverns with traditional food (sheep patties, meatballs with leeks), dairy products such as the "Metsovone" smoked cheese produced by the Tositsas dairy Foundation, and shops with local handicraft products and traditional silversmith.
Metsovo has numerous clubs and a good winter sports infrastructure. The dance groups of Metsovo and friends of free horseback riding participate in cultural events in their local costumes. Metsovo celebrates the memory of Agia Paraskevi on July 26, and on this day the traditional dance of the women is performed.
Map